Buy a Cross Cut Carcass Back Saw
Traditionally, the frames of furniture casework were called a "carcass" back saw, so the common crosscut back saw (used a lot for mortise & tenon joints) was called a "carcass saw". A Carcass back saw can be configured to rip or cross-cut, but most joiners find cross-cut most useful for precise cross-grain cuts (like tenon shoulders and dados). Vintage carcass saws for sale are rarely listed as "carcass". A lot of uninformed people list them as "dovetail saws" or "tenon saws". But at around 11-14″, they're obviously not dovetail saws or tenon saws. So keep that in mind when searching around for one. Carcass back saws will have around 12-14 ppi.
Read the above section on buying a dovetail saw to see why I chose to invest in new Lie-Nielsen back saws. So years ago, after a lot of research, I decided to also purchase their 14 ppi cross cut back saw (see it here) for cutting joinery across the wood grain (e.g. cutting tenon cheeks).
I love this cross-cut saw like I love bacon…i.e. I'll never give it up. Look at the curly maple handles…actually, they kind of look like bacon..mmmm….
I also own several Disston back saws, like this Disston No. 4 steel back saw: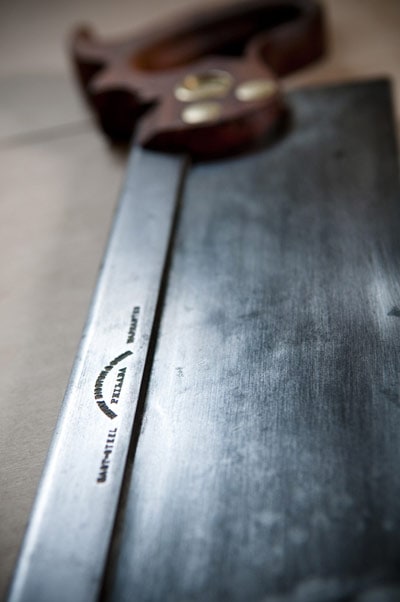 It really is a great back saw, but required a bit of refurbish work to get it cutting nicely.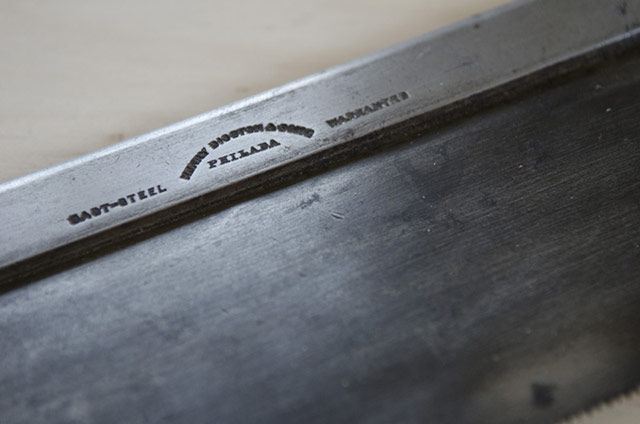 If you decide that you'd prefer to buy a vintage/antique carcass back saw, make sure to inspect the blade for kinks.
As a last resort you can smack the back of the steel/brass back on a piece of wood and it will straighten out, but not always (and it can make it worse), so it's best to buy back saws with straight saw plates. Just sight down the saw plate before buying it. Also check the handles for broken pieces. A broken saw horn is very common, but certainly not a problem if you're looking for a low priced back saw.
 Buy a Rip Tenon Back Saw
Next to miter saws, tenon saws are the largest back saws. And they're used for ripping along the grain, predominantly on tenon cheeks. On eBay and in flea markets you'll see people trying to pass carcass saws off as tenon saws, which is incorrect. Tenon saws are much larger (around 22-ish inches long with a 16-ish inch long blade x 4-ish inches tall) with 10-12 ppi.
Years ago, after talking to some friends I decided to purchase Lie-Nielsen's Tenon Rip Saw (16″ long blade version) for around $150. You can find it here. I chose the "thin plate" version ( .020″ thick) for easier sawing. It was much cheaper than trying to find a descent vintage tenon saw. Believe me, I tried.
But if you really want an antique tenon saw, then check with some tool dealers or on eBay (just remember to find a true tenon saw or you won't get very deep into your tenons). But also realize that not all your tenons will be large enough to require a 4-inch tenon saw.
 Buy a Miter Box Back Saw with a Miter Box
What is a miter box? A miter box is a frame that holds a long back saw to make accurate cuts at different angles. I use my antique miter boxes and miter back saws all the time because I can set the angle and make very precise cuts across the grain. And I can repeat the same length cut over and over again for multiple pieces. The accuracy and cleanliness is even better than with the power miter saw (a.k.a. "chop saw"). Using a miter box saw saves you from having to spend a lot of time truing up the edges of a board with planes or chisels. It can give you perfect 90 degree angles.
Most of the antique Disston, Stanley, or Millers Falls miter saws will work just fine, if sharpened properly (stay away from saws manufactured after the 1940's). But most antique miter boxes will be paired with a saw, so just find a decent miter box and the saw will likely be good enough.
There are different types of miter boxes to consider. I would avoid the type of miter box that uses your precious back saws (like the Stanley No. 150). When I tried one, it injured the blade of my back saw because it clamps down on your hand saw's back and saw plate. If you stick with the antique Millers Falls miter boxes or Stanley miter boxes, you should be happy.
I own about five miter boxes and miter box saws, including a Millers Falls 75 miter box , a Millers Falls 74 C, among others. I've also used a Stanley 2358 miter box and found it satisfactory. Just check the parts to make sure they function properly and that no major parts are missing. You can usually find old user manuals (along with parts diagrams) that have been scanned to PDFs for viewing online.
For example, make sure you can lock the box at any angle and make sure no screws are missing from the guide posts (arms that bob up and down).
If possible try to find your miter box saw locally, like on Craigslist, if you can so you can physically inspect it. I've paid $15-$25 for local saws. Having them shipped to you is definitely an option but the shipping can raise the price substantially. But if this is your only option, most miter boxes and miter box back saws on eBay have good descriptions and photos. If you can't find any locally, then check some of these saws out:
This hand saw buying guide continues on the next page….