The Wood And Shop Traditional Woodworking School is a center for educating beginner and advanced woodworkers, featuring a broad range of classes and instructors. The school is based in just outside historic Charlottesville, Virginia and is just 20 minutes away from the Shenandoah National Park. The school focuses mostly on using historical woodworking hand tools, but also incorporates modern techniques and modern styles. But one thing remains constant here: traditional quality and craftsmanship. To see a list of classes offered at the school, click the above button.
Here at the Wood And Shop Traditional Woodworking School we feature some incredible woodworkers who also possess great teaching ability. Below are short bios of the teachers we have lined up for classes:
GETTING HERE
The school is located in historic Albemarle County, Virginia, just 8 minutes away from the Charlottesville airport. It is also within reasonable driving distance from major metro areas such as Washington D.C., Richmond, Philadelphia, New York, Pittsburg, and Charlotte. Many of these areas are also connected to Charlottesville via the Amtrak rail line.
The address of the school is 5700 Buffalo River Rd. Earlysville, Virginia 22936.
Flying into the Charlottesville airport is quite often more affordable than flying into Washington D.C. or Richmond.
Quite a few car rental centers, hotels, Airbnb's, and restaurants are near the airport, so students will find it easy to join us from anywhere in the world!
HOTELS & GUEST HOUSES
There are many hotels within 10-15 minutes of the school. Here is a Google Map search of nearby hotels and also a TripAdvisor list of nearby hotels. A new hotel was recently built 8 minutes from us, which you can see here. You can also checkout AirB&B for nice accommodations near the school. AirB&B is where most students seem to find the best deals. Here are a couple nearby (and affordable) AirB&B properties that students have really liked:
CAMPING
Here are some google map listings for campgrounds in the area. We have stayed at Misty Mountain Campground, which is one of the closest (about a 30 minute drive), and it's quite nice. They have a lot of good amenities, RV sites, tent sites, and also some more secluded sites. There's also Shenandoah Hill's campground (25-30 minutes away). We haven't stayed there, but it looks nice. There are also camp sites in the Shenandoah National Park, which we've camped at many of them. The entrance to the park is about 17 minutes from our place, and the closest campground (Loft Mountain campground) is about 45 minutes from the school, and Big Meadows is about 50 minutes away. You can check out Shenandoah camp sites here. You will, however, have to pay a park entrance fee. There is also a KOA campground about 35 minutes away (here).
THE HISTORIC CHARLOTTESVILLE AREA
What better place to learn how to build historical furniture with antique hand tools than in the very same area where many of the American founding fathers kindled the flames of democracy? Just 30 minutes to the southeast, Thomas Jefferson laid the foundation for the Declaration of Independence and built an American landmark: Monticello. Practically next door to Monticello is James Monroe's farm, Ash Lawn-Highland (one of my favorites). Just 30 minutes to the northeast James Madison formed the ideas for the American constitution at his famous Montpelier farm . Two hours to the east is Colonial Williamsburg and 45 minutes to the west is the Frontier Culture Museum. All around this area the Revolutionary war and Civil wars were fought to galvanize the new American republic. The Shenandoah National Park gate entrance is 18 minutes away from the school. And the historic downtown Charlottesville area (15 minutes away) will be a highlight of your trip. Make sure you plan some extra time to visit these historic landmarks!

WHAT TO EXPECT AT OUR TRADITIONAL WOODWORKING SCHOOL?
Below you will learn all about what to expect in a woodwork class at the Wood and Shop Traditional Woodworking School:
Classes start promptly at 9:00 am, so students should plan on driving up early or arriving at their hotel the night before (book your hotels early). But please don't arrive earlier than 8:30 am.
Classes start with getting to know each other, followed by safety instruction and a gathering of the project material fees (if applicable, and if it hasn't already been sent in the mail). Then the instructor(s) will dive into the subject matter.
Each student will have a traditional workbench to work on, and students are welcome to bring their own hand tools (properly sharpened, of course). But all necessary hand tools will be provided, so don't worry if you don't have your own hand tools.
A one hour break will be taken around noon. To allow students to make more progress on their projects, students are encouraged to bring their lunches to eat at the school (we have a fridge). However, there are some convenience stores a few minutes away that make sandwiches, and also restaurants are a short 8 minute drive from the school. Don't be late getting back from lunch or you might get behind!
Classes will generally end around 5:00 pm, after which students are encouraged to join each other for dinner & socializing at one of many nearby restaurants (8+ minutes away). The historic downtown Charlottesville area is known for it's amazing local restaurants.
Most students are typically working earnestly to finish their projects toward the end of the class, but we'll always take time for a class photo!
Not every detail of every project gets completed by every person, but students should be able to leave the class feeling confident in their newly learned ability to complete the project on their own.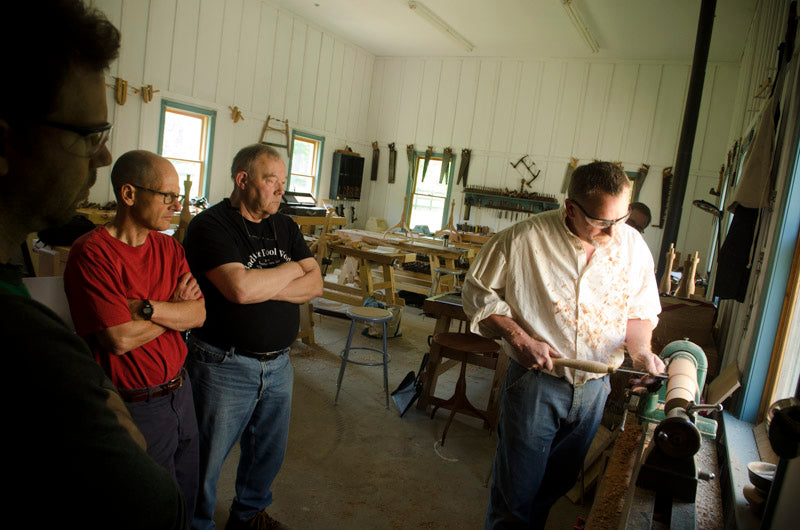 Students of our woodworking school are entitled to discounts from hand tool companies like Lee Valley / Veritas and Taylor Toolworks. You can use the discount between the day you signed up and the last day of class. After registering for your class, reach out to us and we'll email you a student discount form.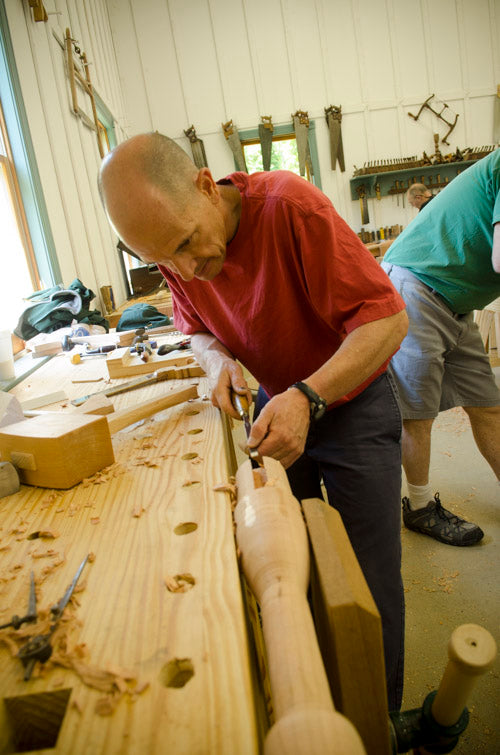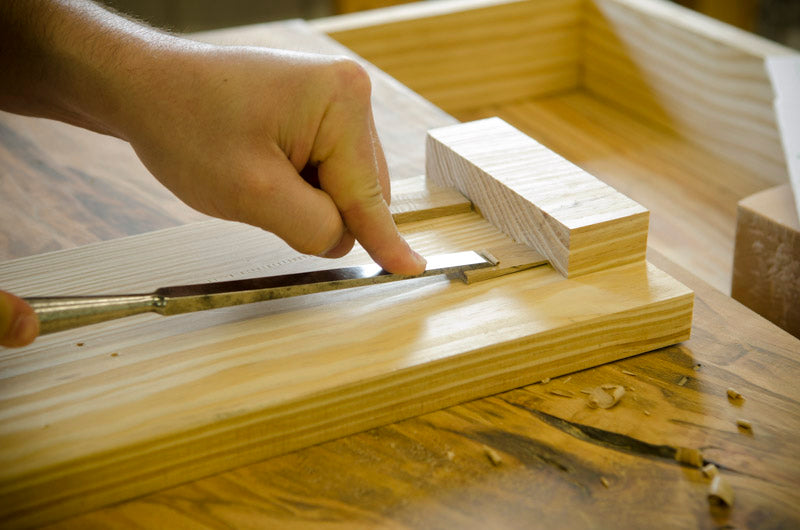 The traditional outhouse just steps away from the school building:
Click here if you want to vote on which types of classes you'd like to see offered here in the future.